Canoports UK Ltd has been founded on 25 years of experience within the Glazing industry.
Our products and component parts have been designed by specialist and prominent engineers within this field and through close collaboration we have developed four full aluminium systems.
Revolutionising Canopy, Carport and Veranda structures, these All- Aluminium systems benefit from top quality performance, clinically sharp aesthetics, a maintenance-free robust finish, exceptional durability and life expectancy and significant cost-savings arising from the speed at which these can be installed.
With stringently controlled Quality Management Systems and an unrelenting work ethic, our Manufacturing and Distribution Facility, centrally based in the heart of Leicestershire offers efficient, effective and comprehensive solutions – delivered fast to all corners of the UK.
Free Deposit Protection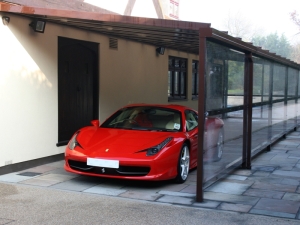 Canoports are proud members of the Glass and Glazing Federation (GGF) which offers many benefits to our customers including free automatic deposit protection using the GGF Deposit Indemnity Fund that safeguards your deposit and installments of upto 50% of the contract value or £12,500 (whichever is lesser).
Click to find out more about our membership with the GGF and how it benefits you > Find out more…
"Your team were extremely helpful and clean, very professional and I'm so pleased with my new veranda, thank you so much, I'd most certainly recommend your products."