If you are looking to install a structure on your property grounds to protect your car from the elements but are unsure of whether to go for a garage or a carport, we have listed the benefits of each to make your decision easier.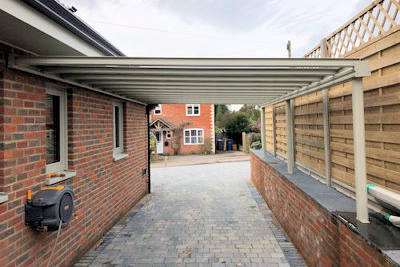 Benefits of a Carport
Carports offer many benefits to homeowners, the main being that they are very cost-effective, particularly when in comparison to a garage. Another major benefit is that you have the option to either install the structure yourself or employ a professional to install it for you. This is particularly ideal for those who are in the industry themselves or are keen DIY-er's and feel confident installing a carport themselves. Our carports are available in either a Supply Only Carport Kit or one of our trusted approved installers can install them for you.
The installation time frames are also much quicker and depending on the size can be installed in as little as less then 1 day, this causes minimal disruption to you and the use of your home. The floor underneath the carport can be of almost any surface including grass, gravel, paving stone or concrete. There's no need to install a new flooring for your carport, it can be installed above your existing flooring. Both of these factors mean that you can start putting it to use as soon as its been installed.
Carports have more than one use, when entertaining in your garden. You can move your car and use the area underneath to socialise under the carport whilst keeping protected from the sun and rain, enabling your plans to go ahead whatever the weather decides to do.
There's more flexibility in where you place your carport, a garage cannot be installed in front of a window as it would mean the room would be without a window however, a carport can be installed above a window as it would still allow light in, the window would still be accessible and it would actually make the room inside much cooler on hot, sunny says as it will create a shade from the sun.
The flexibility also extends to the frame materials, roof panel materials and colours available, allowing you to personalise the structure to match your home perfectly. Side panels can also be added to enclose the structure slightly, providing additional protection from the wind and driving rain.
In a nut shell the main benefits of a carport are:
Cost Effective – Costs much less to purchase
Choice of Self-Installation – Available in kit-form for self-installation or can be installed by professionals if preferred, giving you the choice to save even more money
Quick Installation Times – Much quicker to install compared to garages and can be installed in as little as less than 1 day depending on the product and size chosen
Use Existing Flooring – Saving more money and enabling you to use the structure as soon as its been installed
Multiple Uses – A carport can also be used as a veranda, allowing you to entertain and socialise I your garden whilst keeping protected from the weather, slowing plans to go ahead whatever the weather
Flexibility in Installation Area– Unlike a garage, a carport can be installed over windows, adding another benefit of keeping the room inside the windows cooler on hot, sunny days
Various Options/Designs – There's a lot of choices in the in frame and roof panel materials along with colour options for both. We recommend aluminium carports with glass or polycarbonate roofs which are the best for longevity, strength and appearance
Enclose the Carport – You can enclose the carport by adding polycarbonate panels onto the sides to block driving rain and wind
No Planning Permission is Required – Most of the time planning permission is not required for carports however, please do check with your local authority to be sure
Benefits of a Garage
Better Security – Garages can be locked and secured giving you peace of mind when you are away from home
Store Equipment Securely – Because it can be locked, it also enables you to store equipment and personal items including additional freezers etc.
Fully Enclosed – Offering full weather protection
To find out more about our aluminium carports, which are covered with a choice of toughened glass or vandal and shatter resistant polycarbonate panels that will not yellow over time, please click here: aluminium carports
Download your free copy of our carport, veranda and glass room brochure to discover our high quality shade and shelter structures.

Canports UK: Supplying high quality carport, canopy and veranda systems to the public
Both supply only and full installation available.
Follow the below links to keep up to date with our latest news & offers:
Twitter | Facebook | Blog | Contact Us