How a Veranda Can Enhance Father's Day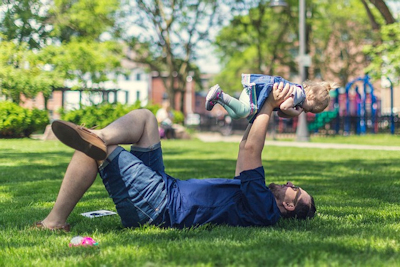 Verandas are versatile structures that can be used for many events and occasions, as well as enabling you to quite simply make the most of the outdoors. One occasion which is coming up is Father's Day and as it's in the height of the summer, this is most definitely a chance to dust of your plastic cutlery and tumblers and put on a Father's Day that your Husband, Dad or Grandad will cherish. And with all the space of the outdoors you can invite all the fathers in your life to join in on the fun.
Your veranda can be used to put on a feast like no other, whether it be party food, a picnic or a BBQ, the food can be stored under your veranda away from the beaming hot sun. It also means that if the weather turns a little rainy (as it quite often does in the UK), you don't have to panic and bring everything indoors as the veranda will keep everything covered and dry.
Why not add a special touch for the fathers in your life and help your children or grandchildren to put on a little show, using your veranda as either a stage or a covered seating area. Or if the men in your life love a little sing-song, you can transform your veranda into a covered stage to host a karaoke show, or your very own version of a talent show.
So, whatever your plans are for Father's Day, remember to make the most of your own outside space, making the day not only easier on the pennies but much more personal and memorable.
If you are looking to purchase garden veranda, please click here to view our range of aluminium verandas including glass verandas and polycarbonate verandas.
Canports UK: Supplying high quality carport, canopy and veranda systems to the public
Both supply only and full installation available

Follow us on our social media accounts to keep up to date with our latest news & offers:
Twitter | Facebook | Blog | Contact Us