Canopies for Visitor Attractions
The cold and rainy season is upon us, yet understandably as a business, you're looking at ways to keep your visitor numbers up throughout the winter to keep sales up and keep your profits ticking along nicely.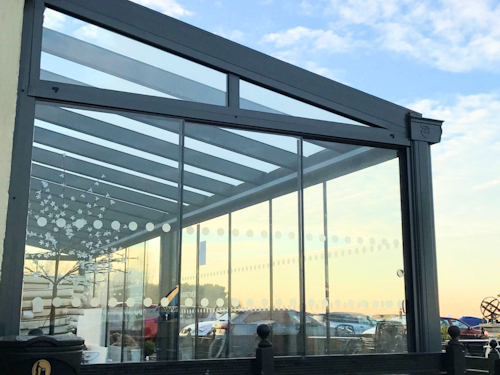 It's also pleasant for families if they have somewhere they can go with their children, friends or relatives throughout the winter without the weather putting them off.
That's where canopies for visitor attractions come in. Canopies can be situated around your visitor attraction including around food forecourt's, viewing areas and outdoor walkways. This will entice visitors to come along to your business as they know that they will keep sheltered and dry throughout most of their experience.
Permeant canopies will bring a sigh of relief to visitors all year round as not only will they shelter from the rain during the colder months, you will find that they provide UV protection from the sun, therefore making a cooler, shaded area underneath when it is needed most.
We have a range of high strength Wall Mounted Canopies as well as Free Standing Canopies and Glass Rooms which are perfect for outdoor dining areas adjacent to your restaurants.
Contact us today for a free quotation for your canopy with a full installation service or a supply only for self-installation.
Canports UK: Supplying high quality carport, canopy and veranda systems to the public
Both supply only and full installation available

Follow us on our social media accounts to keep up to date with our latest news & offers:
Twitter | Facebook | Blog | Contact Us